VoIP Speaker Phone with Acoustic Echo Cancellation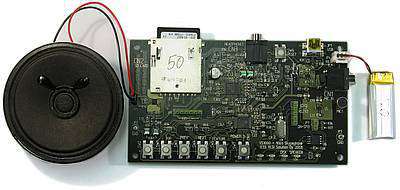 · PC peripheral
· Connected to USB - no other cables needed
· Five-in-one functionality:
· VoIP (Skype etc.) speaker phone with Acoustic Echo Cancellation
· Media player
· Voice recorder
· USB Mass storage device
· Sound card
· Automatic acoustic echo cancellation
· No software drivers needed
· 8 kHz voice recording to memory card
· Supports various media formats: MP3, WMA, Ogg Vorbis, WAV
VoIP Speaker Phone is an example of a product that can be built by using VS1000 and VS1003 devices.
It features multiple functions, good audio quality and low power consumption.
Due to sophisticated built-in acoustic echo cancellation algorithm, it is well suited for applications that require hands-free communication via speaker phone.